'I am' Digital Story (method 3): using a two-step consent procedure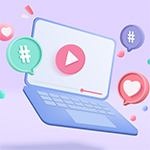 This approach outlines a two-step process in requesting consent from participants when creating an 'I am' Digital Story. The two-step approach covers all stages of involving participants in projects.
It is important to use a two-step consent procedure for (1) the making and (2) sharing of 'I am' Digital Stories. This is because it is not possible for participants to give fully informed consent at the start of a project about whether and how they want their finished film (Story) to be shared. They first need to see the Story, and what it includes, before deciding whether they are happy for others to see it.

Step-one
This happens at the start of the project when recruiting the storyteller and the person / people who will support them. This is when participants are given enough information about the research project to decide if they would like to take part. This should include permission to include the Story as research data within the project i.e., that the Story and its process of creation can be analysed.
Example: an information sheet in a storyboard style used for autistic young people aged 14 – 16 years. This can be used as inspiration to think about, and discuss within your team, how and what you need to communicate with those involved in your research.
Once planning of the 'I am' Digital Story is complete, any extra people the storyteller would like to include can be invited to participate. The step-one consent form at this point should clearly include an agreement between participants and the researchers that the Story will not be made publicly available without their permission and that they will be asked separately about this nearer the end of the project.
Step-two
This happens when parent/carers, storytellers and extra people appearing in the 'I am' Digital Story project have viewed the final version. It is important to make participants aware that ownership of the work primarily lies with the storyteller and (if relevant) their parent/carers, and it is their decision how it is shared and whether it can be made publicly available.
People can have very different feelings about how they want to share their final 'I am' Digital Story. Therefore, the step-two consent form should present a few options with different levels of sharing agreements to select from such as:
within research presentations at conferences and meetings
for teaching purposes at University
on project-related websites.
Of course, participants can choose not to agree to any of these types of sharing and this is an important opportunity for them to make that clear too.
Step-two consent must be obtained from anyone who appears in the 'I am' Digital Story. Therefore, if 'extras' appearing in the Story do not consent to the same level of sharing as the owners of the story, then they can be edited out, or their faces blurred. Blurring can be time consuming, so it is always best to make sure everyone understands the objective of the two-step consent procedure from the start.
> Download this example two-step consent process ethics form. This can be adapted for your own research.
Making information accessible
Depending on the intended participants of your 'I am' Digital Stories you should consider carefully how to explain their role in the project. This could include accessible material such as a storyboard or video that illustrates what they will be doing.
Inclusion of music in the Story
For some participants music can be an integral part of how they want to express themselves and for others music is in the background. In whatever way it is used, copyrighted music cannot be included if the 'I am' Digital Stories are made publicly available unless a license is in place. Unfortunately, gaining permission to use copyrighted music can be time consuming and costly. There are websites with royalty free music which could be an option.
- Our thanks to Dr. Gil Dekel for his support in preparing this resource.
More on this topic
About the author
⌃BACK TO TOP