Dr Dianna Smith of the University of Southampton has joined NCRM as a Deputy Director. The health inequalities researcher has taken on the role of lead for NCRM's IT, e-learning and communications group.
The position was previously held by Professor David Martin, who has retired after almost 20 years with NCRM.
Dr Smith, who is also part of NCRM's senior leadership group, said: "As someone who attended NCRM events and training as a postgraduate researcher, then delivered training as an academic, I am excited at the opportunity to contribute further to NCRM. It has shaped my career to date and I look forward to working with the team in this new capacity."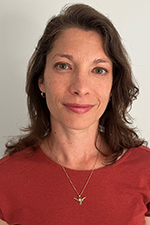 Based in the School of Geography and Environmental Science, Dr Smith brings a wealth of experience in quantitative methods.
Her research interests are in quantitative health geography, using GIS to visualise data to address key social and spatial inequalities.
She works across the disciplines of geography and public health with links to local government and civil society. Her substantive interests are in food, diet and related health outcomes or behaviours.
Professor Gabriele Durrant, Director of NCRM, said: Professor Durrant said: "We are very grateful to and welcome Dianna to the NCRM team. Dianna joined NCRM 18 months ago and has now fully taken on the position of lead for our IT, e-learning and communications group. Her expertise and leadership skills are a great asset to the centre and we thank Dianna for her excellent work with us so far."
NCRM currently has 19 team members operating across its three core partners: the University of Southampton, The University of Manchester and the University of Edinburgh. Dr Smith is part of a team of 11 based in the Faculty of Social Sciences at the University of Southampton.