Professor David Martin, one of NCRM's founding members, has retired after a highly distinguished career at the University of Southampton and almost 20 years with NCRM.
He retires as one of the most eminent figures in his field, having received an OBE in 2019 for services to geography and population studies.
After joining the university in 1992, Professor Martin held a number of senior positions and made pioneering research contributions, particularly in population modelling and census methodology.
In 2004, he helped to establish NCRM in the university's Faculty of Social Sciences, and over the past two decades has been instrumental in the growth of the centre – most notably as a Deputy Director and the lead for IT, e-learning and communications.
Professor Gabriele Durrant, NCRM's Director, said: "On behalf of the whole NCRM team, I would like to thank Dave hugely for everything he has done for the centre over so many years. His wide-ranging expertise in research methods, experience in IT, communications, user service provision and online learning, and significant contributions to the strategic leadership of the centre will be very greatly missed.
"Dave's contributions to national policy and methodology have been hugely influential and an inspiration to his colleagues. On a personal note, I am incredibly grateful for all his advice over the years, both directly and in leading by example.
"NCRM owes a large part of its success to Dave's dedication, and our continuing work, to support the research community, will build on the foundations that he helped to establish. We wish Dave all the very best for the future."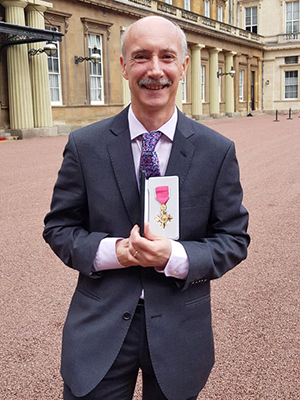 A pioneer of population modelling
During his 31 years at the University of Southampton, Professor Martin significantly advanced practices in his field through his outstanding research, innovative techniques and involvement at senior levels in various organisations.
He originated the current system of census output areas and statistical zones used by the Office for National Statistics in England and Wales, and he developed new methods for gridded population mapping and spatiotemporal population estimation.
Professor Martin is universally admired among current and former colleagues, not just for his expertise but also for his treatment of others. In particular, he is known for being incredibly generous with his time, modest, patient and willing to offer advice to colleagues at all levels.
Across his roles at the University of Southampton, Professor Martin has been an irreplaceable team player who, despite his own achievements, has always been keenly interested in the work of others and committed to supporting students. Colleagues also praised his ability to manage any situation in a calm, constructive and respectful manner.
Outside of the university, he was co-ordinator of the Economic and Social Research Council's (ESRC) Census Programme from 2002 to 2012, Deputy Director of the UK Data Service from 2012 to 2022 and Deputy Director of the Administrative Data Research Centre for England from 2013 to 2018. From 2010 to 2016, he was a member of the ESRC Council.
The UK Data Service recently published a two-part interview with Professor Martin that delved into his career and research contributions, titled "Professor David Martin: a pioneer of population modelling". Read part one and part two.
Dr Dianna Smith, an Associate Professor at the University of Southampton, has taken on Professor Martin's role as lead for IT, e-learning and communications at NCRM.