Four Qualitative Methods for Understanding Diverse Lives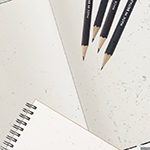 This resource introduces four qualitative research methods to better understand diverse lives.
When researching social groups, researchers may focus on categories such as age, gender, sexuality and so on. These categories can turn catch-all terms into catch-all agendas. Treating groups of people with one shared characteristic as homogenous risks a cookie-cutter approach which overlooks diverse lives and needs. Given the complexity of what it means to be a person, a one-size fits all approach to engagement cannot suffice.

The methods listed here - Collage, Photo Go-Alongs, Life History Interviews and Participant Packs - are beneficial in exploring diverse lives and can be used when researching with any group.
Collage
The Collage method involves creating a visual representation of the topic being explored. The multi-media nature of collage means that it can help participants and researchers to understand and communicate experiences which might be difficult to express through the spoken or written word alone. The activity sheet asks you to reflect on the experiences, memories and emotions associated with a specific place through the creation of a collage. Download activity sheet here.
Photo Go-Alongs
Photo Go-Alongs are a mobile visual method which involve undertaking a journey with a participant whilst engaging in any kind of movement, such as walking and taking photographs. The combination of photography, movement and talking stimulates new ideas and perspectives. It can add richness to research by foregrounding what matters to different people. The activity sheet asks you to explore your connection with place using this method. Download activity sheet here.
Life History Interviews
Life History Interviews involve asking participants questions about their lives in order to record, document and preserve the perspectives, experiences and beliefs of participants. This method provides valuable insights into the subjective experiences and perspectives of individual participants. The activity sheet asks you to reflect on personal experiences to gain a deeper understanding into your own life-course. Download activity sheet here.
Participant Packs
The Participant Pack is a method to facilitate participant engagement in a research project. This is an accessible method which can work well in person or online. The activity sheet asks you to reflect on the experiences, values and beliefs that shape your identity through the creation of a Participant Pack. Download activity sheet here.
____
We can only ever strive to represent the lives of individuals to the best of our ability. There will always be something that escapes representation. I propose that drawing on a combination of the methods outlined above whilst adopting an immersive, creative, flexible, and participatory approach to research can help to better understand diverse lives. Doing so will enable academics and policy communities alike to better attend to complex lives and needs. The key word here is perhaps flexibility. If people are different, then our methods for understanding them should be different too.
About the author
⌃BACK TO TOP