AI in Qualitative Analysis, part 1 : Developments and Methodological Implications
Date:
24/11/2023
Organised by:
University of Surrey / Social Research Association
Presenter:
Dr Christina Silver
Level:
Entry (no or almost no prior knowledge)
Contact:
Dr Christina Silver, c.silver@surrey.ac.uk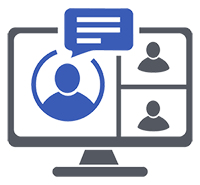 Description:
What's going on with AI technologies in software designed for qualitative analysis and what are the implications of these developments on qualitative methods? Join Part 1 of our symposium to hear qualitative software developers and experienced methodologists discuss these issues.
We have five CAQDAS developers presenting comparable descriptions of what their qualitative-AI tools do, how they have been developed and implemented and why. Hear from developers who have had AI tools in their programs for several years, as well as those who have recently harnessed newer generative-AI technologies. This is an opportunity to understand and reflect on technological developments and feed your questions directly to developers. Presentations feature the following programs: CoLoop, DiscoverText, Leximancer, MAXQDA and QDA Miner/WordStat.
This session also includes discussion from eminent qualitative methodologists about the implications of these developments on analytic practices. How do/might these technologies affect the way we go about qualitative analysis? How do/might they affect the quality of analysis and outputs? These and other questions will be addressed in a conversation between Dr Sarah L Bulloch of the CAQDAS Networking Project, and Dr Silvana di Gregorio (Lumivero) and Dr Susanne Friese (Qeludra).
Programme:
2.00pm - Welcome & introductions (Christina Silver, PhD)
2.15pm - The what, why and how of qualitative-AI in CoLoop developer presentation (Jack Bowen)
2.30pm - The what, why and how of qualitative-AI in DiscoverText developer presentation (Stu Shulman, PhD)
2.45pm - The what, why and how of qualitative-AI in Leximancer developer presentation (Andrew Smith, PhD)
3.00pm - Facilitated Q&A
3.20pm - BREAK (10 mins)
3.30pm - The what, why and how of qualitative-AI in MAXQDA developer presentation (Stefan Rädiker, PhD)
3.45pm - The what, why and how of qualitative-AI in QDA Miner/WordStat developer presentation (Normand Péladeau, PhD)
4.00pm - Facilitated Q&A
4.15pm - In conversation with methodologists: Silvana di Gregorio, PhD & Susanne Friese, PhD (Chaired by Sarah L Bulloch, PhD)
4.55pm - Round up (Christina Silver, PhD)
5.00pm - Close
Cost:
Free
Website and registration:
www.the-sra.org.uk/Shared_Content/Events/Event_display.aspx?EventKey=SOAI241123
Region:
International
Keywords:
Qualitative Data Handling and Data Analysis, ICT and Software, Artificial Intelligence, AI
Related publications and presentations:
Qualitative Data Handling and Data Analysis
ICT and Software