Taking Deliberative Research Online - online (few places remaining)
Date:
27/09/2023 - 28/09/2023
Organised by:
National Centre for Social Research (NatCen)
Presenter:
Duncan Grimes
Level:
Intermediate (some prior knowledge)
Contact: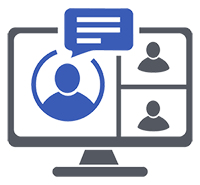 Description:
Deliberative research is emerging as a critical method for exploring public attitudes particularly on social and policy problems that are contested, complex or uncertain. This live course explores the principles, benefits and limitations of deliberative approaches to social research and in particular the challenges and opportunities of delivering these online. We cover a combination of theory and practical examples to consider both doing deliberative research and being a deliberative researcher. This course does not focus on the analysis of deliberative data.
This short course (run across two consecutive mornings) is suitable for those with existing experience of the theory and practice of qualitative research and aimed at those who have responsibility for designing as well as overseeing the delivery of research projects.
The course covers:
an overview of the theoretical principles of deliberation and how these are more recently being used in answering social research questions
the uses, benefits and limitations of these methods in both on and offline contexts
how to design, conduct and facilitate a synchronous online deliberative workshop using video technology
specific guidance on the role of the moderator in events including strategies for participation
the competencies and ethics of being a deliberative researcher
By the end of the course participants will be able to:
Differentiate between deliberative research and other analogous methods (e.g. focus groups) and understand when it is appropriate to use deliberative approaches
Design and conduct an online deliberative workshop
Understand the role and key skills required of moderators
Identify the ethical considerations and frameworks useful to deliberative research
Provisional timetable. All sessions are synchronous and all are group sessions.
Day 1 (27th September)
10.00am: Arrival and Introductions. Learning about each other and the course.
10.30am: Defining Deliberation. A theory based introduction to the course topic and the use of deliberative approaches in social research.
11.30am: Break
11.45am: Benefits, Limitations and Competencies. An applied discussion on putting the principles of deliberative research into practice.
12.45pm: Questions and close by 1pm.
Day 2 (28th September)
10.00am: Welcome back and reflections on Day 1.
10.15am: Synchronous Online Deliberative Workshops. A 2 hour practical session (including a break) involving the collective planning and delivery of a typical deliberative workshop. Together we will explore the specific considerations for this method as well as the competencies required of researchers to work in this way. We will also use some of this time to identify what topics or questions you would like to cover in the open space session that follows.
12.15am: Open space – participant led. A chance to ask questions or invite further discussion on any of the content covered to this point.
12.50am: Final questions and close by 1pm.
Cost:
The fee per teaching day is:• £30 per day for registered students• £60 per day for staff at academic institutions, Research Councils researchers, public sector staff, staff at registered charity organisations and recognised research institutions. • £100 per day for all other participants. In the event of cancellation by the delegate a full refund of the course fee is available up to two weeks prior to the course. No refunds are available after this date.If it is no longer possible to run a course due to circumstances beyond its control, NCRM reserves the right to cancel the course at its sole discretion at any time prior to the event. In this event every effort will be made to reschedule the course. If this is not possible or the new date is inconvenient a full refund of the course fee will be given. NCRM shall not be liable for any costs, losses or expenses that may be incurred as a result of the cancellation of a course. The University of Southampton's Online Store T&Cs also continue to apply.
Website and registration:
Region:
Greater London
Keywords:
Epistemology, Participatory Research, Qualitative Research, Deliberative and Participatory Methods, digital Social Research, Research Skills, Epistemology
Related publications and presentations:
Epistemology
Participatory Research