How to anonymise qualitative and quantitative data
Date:
15/06/2023
Organised by:
UK Data Services
Presenter:
Anca Vlad and Maureen Haaker
Level:
Entry (no or almost no prior knowledge)
Contact:
Emma Green
emma.green-3@manchester.ac.uk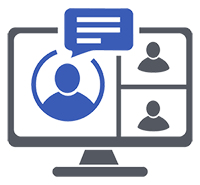 Description:
The past few years has involved a huge change in expectations for researchers in how they manage and share participants information. There are new legal obligations, such as the new GDPR regulations, as well as a greater emphasis in sharing data after the completion of a research project.
The process of anonymisation is an essential part to protect the identities of research participants while complying with these ethical and legal standards. Before sharing, archiving, or publishing data, you should ensure that all identifying and disclosive information is managed appropriately and redacted when necessary.
Join us as we critically discuss what is meant by disclosive data and strategies for anonymising quantitative and qualitative data. We will look specifically at key differences between anonymisation and pseudonymisation and discuss how to responsibly use, plus share data using a three-prong strategy for protecting participants' identities.
In this interactive workshop, you will have an opportunity to develop an anonymisation plan, test your knowledge on legal and ethical obligations and discuss how to strike a balance between anonymisation (or pseudonymisation), access regulation, as well as consent.
This free workshop will consist of a 90-minute session, including presentations, exercises and questions.
Presenters: Anca Vlad and Maureen Haaker
This workshop is intended for anyone who wants to learn about data anonymisation. No preparation is necessary, however basic knowledge of research methods is assumed.
We will be using Mentimeter to ask questions in this workshop so you may benefit from having a second device ready for this, such as a smartphone.
This event is part of our UK Data Service introductory training series: Spring 2023.
This event will be livestreamed on our UK Data Service YouTube channel but the chat will be disabled. By registering and attending the Zoom event you will be able to ask questions and interact.
Recordings of UK Data Service events are made available on our YouTube channel and, together with the slides, on our past events pages soon after the event has taken place.
Cost:
Free
Website and registration:
https://essex-university.zoom.us/webinar/register/WN_9_jBT-a3SZ6io8Aeh_071A
Region:
International
Keywords:
Qualitative Data Handling and Data Analysis, Quantitative Data Handling and Data Analysis
Related publications and presentations:
Qualitative Data Handling and Data Analysis
Quantitative Data Handling and Data Analysis