Introduction to agent-based modelling for social scientists
Date:
19/01/2022
Organised by:
UK Data Service
Presenter:
Dr J. Kasmire
Level:
Entry (no or almost no prior knowledge)
Contact:
Sorcha O'Callaghan sorcha.ocallaghan@manchester.ac.uk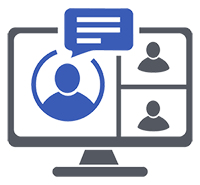 Description:
Social science seeks to understand and predict patterns involving human behaviour, many of which are large-scale and complex. However, social science explanations or predictions can be difficult to test and refine because of the serious ethical and practical barriers to running experiments on the real world! For example, there are many possible explanations for the complex patterns of urban mobility, but when traffic calming measures fail to produce the desired results it can be difficult to identify why or how the situation can be improved.
One possible solution is to run social science experiments 'in silico' via an agent-based model (ABM) in which simulated actors have features, behaviours and actions informed by real world data. Such ABM experiments allow social scientists to test and refine their understanding of problems and possible solutions and to explore how emergent patterns might change under alternative conditions.
This free webinar, organised by the UK Data Service, is the first in a training series on how to use agent-based models combined with real world data to address social science questions. Specifically, this webinar:
introduces important concepts like emergence, bottom-up processes, and more
presents several agent-based model examples
discusses the pros and cons of agent-based models
presents software options
Cost:
Free
Website and registration:
https://ukdataservice.ac.uk/events/introduction-to-agent-based-modelling-for-social-scientists/
Region:
International
Keywords:
Quantitative Data Handling and Data Analysis, Data
Related publications and presentations:
Quantitative Data Handling and Data Analysis