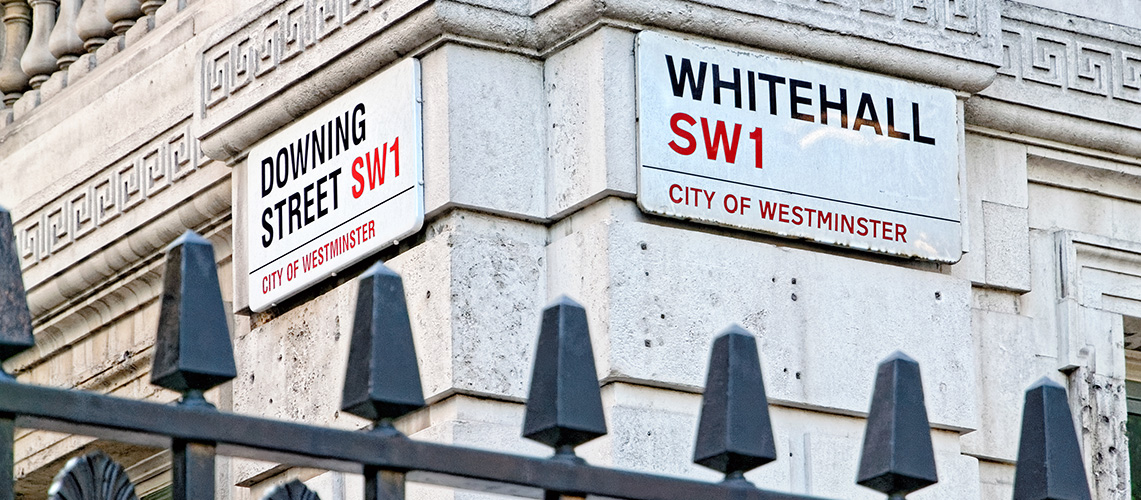 Signs for Whitehall and Downing Street in the City of Westminster
This blog post engages with some of the questions prompted by the first Critical Conversations session of 2023, which focused on influencing policy. Following last year's successful format, the short (three minutes each!) lightening talks given by this month's speakers were followed by conversations in separate breakout rooms. Drawing on their work, the three speakers – Tallulah Eyres, Lenka Janik Blaskova and Teela Sanders – challenged us to think both critically and enthusiastically about the role of research in influencing policy.
In the reflections that follow, I bring together my initial thoughts about the role of research in influencing policy, some of the questions that emerged during October's critical conversations, and some of the lingering reflections I was left with as the session wrapped up.
Who gets to influence policy and how?
Perhaps like other participants who joined the first Critical Conversations webinar in October, I saw the session as a useful guide towards more genuine and sustainable approaches to influencing policy. I wanted to find out what approaches and strategies I could use in my work to ensure that research gets to influence policy. 

I also wanted to hear a bit about the speakers' journeys, especially around the challenges they might have faced and how they managed to overcome them. I know, I had quite a long list of wishes and questions for the three-minute lightening talks we had lined up!
Reflections on the Critical Conversations webinar
Here's a brief account of what I learned from the first Critical Conversations of the year; probably I left the session with as many new questions as answers.
Tallulah Eyres grounded her lightening talk in the research she has been doing on community wealth building and the feminisation of politics. She spoke about how her research on gender inclusion brings to the fore women's voices, documenting the systemic socioeconomic barriers that women face. Influencing policy is key for this work, as it hopes to contribute to a more inclusive economic blueprint that our councils can adopt. Tallulah highlighted the importance of identifying the appropriate research methods to ensure that research supports inclusive policymaking while amplifying women's lived experiences.
Tallulah highlighted how important partnerships and collaborative ways of working are for ensuring that research influences policy. Her experiences made it clear to me that policy recommendations work better if they are first tested with a small group of policymakers and only after this rolled out on a larger scale. In the breakout room, participants shared tips and best practices for compensating collaborators who contribute their voices to research. Critical Conversation participants spoke about how that plays out in different fields of research. 
Lenka Janik Blaskova challenged us to think creatively about the implications of involving teachers in participatory research focused on addressing their psychosocial needs and uses of experiential group practice approaches. Her intervention drew on a collaborative research partnership that bridges across three countries and which aims to develop an evidence-based report informing policymakers and the Recovery and Resilience plan for Slovakia. Lenka highlighted the role of participatory methods in ensuring that research influences policy. Awareness of one's own resources and other project constraints also came up in the discussions in the breakout room, as participants reflected on the different levels at which policy can be influenced. A crucial takeaway from Lenka's talk was that, sometimes, researchers can influence practice more than policy but given enough time, that can snowball into shifting policy. Key to Lenka's provocation was the insight that our ambition to influence policy needs to be matched by a clear understanding of our resources and external constraints.
Drawing on her extensive research that has explored the inter-relationship between gender, sexuality and socio-legal structures, Teela Sanders reflected on the importance of the methods we use when it comes to influencing policy. She noted that relying on co-produced methodologies is key as they bring attention to people's lived experiences. Teela reminded us that policy can be influenced at various levels, ranging from hyperlocal to international policy.
She also spoke about the importance of researchers finding the right balance between being proactive and reactive in their approaches to disseminating research. Liaising with organisations that are active in policy circles, writing to EU rapporteurs, taking up policy-related training, writing briefings, or engaging as expert witnesses were all mentioned as possible approaches.
The point Teela made about being realistic about the time it takes to do this type of work sustainably resonated with me. Researchers, in the academic world or those operating outside it, already juggle multiple tasks and hats, so it is important to acknowledge that influencing policy is an additional demand. Teela noted that it helps to think of this process as a long-term journey and to manage one's resources accordingly. Once again, I found myself agreeing with her assessment that using research to influence policy is a difficult task to take on, but it is one of the most satisfying ones for a researcher.
Points of convergence and emerging answers
The lightening talks stimulated critical conversations in the breakout rooms, especially around methods, outputs that are fit for purpose and ways of working that sustain collaborations that bridge across research and policy spaces. We heard about the importance of maintaining partnerships and nurturing links with policy circles. In different ways, all the speakers highlighted that influencing policy takes time and long-term commitment.
Participants also shared thoughts on how to best stitch together the world of research to that of policymaking. Or, as one participant in Lenka's research put it, how to ensure that we do not "stand on different shores of the same river with no bridge connecting them". Implicit in these reflections was the issue of the power dynamics that govern interactions between researchers, research participants and policymakers.
New provocations to take into other critical conversations
Some of these exchanges opened up new provocations. For me, the thorniest two questions are: whose knowledge gets to shape the policy landscape, and what types of research are prioritised when it comes to changing and challenging the dynamics that unfold in that space? Other related questions include how we monitor and evaluate the impact that social research has on policy, whose responsibility it is to keep track of that impact, and how we ensure that policy follows practice when we take a bottom-up approach to policy change.
These questions connect to my long-standing interest in exploring relational ethics in social research. Social research is anchored in multiple contexts – from the worlds of commissioners to academia, to local authorities, to our highstreets, homes and backyards. Building more sustainable partnerships that stitch together these spaces is key. Better partnerships and ways of working together would ensure that all those with a stake in producing knowledge about our communities get to shoulder together the responsibility of influencing policy.
About the author
Olimpia Mosteanu is a PhD in sociology currently working as a programme lead at Social Life in London, UK. Olimpia's research interests are located at the intersection of the fields of urban studies, wellbeing, and health equity.