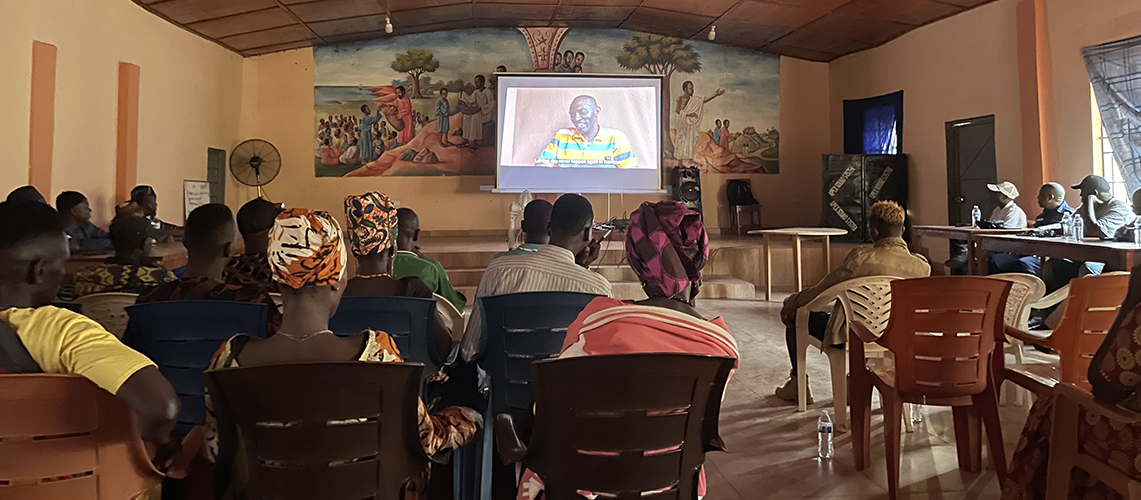 A preview screening of the film Tarma: Communities on the Frontlines of Epidemic Response at a church hall in Kambia, Sierra Leone
In March 2023, in a crowded church hall turned into a cinema for the evening, community members from across Kambia District in northern Sierra Leone, congregated to watch for the first time a new documentary titled Tarma: Communities on the Frontlines of Epidemic Response. The windows of the hall were draped with makeshift curtains to keep out the sun.
Everyone in the room, like other fellow Sierra Leoneans, knew what it meant to experience an epidemic first hand. In 2014-16, Sierra Leone experienced a devastating Ebola epidemic. Amidst immeasurable losses, communities across the country built systems to fight future diseases and to foster trust among the population. Tarma chronicles how frontline responders, from epidemiologists and clinicians to community health workers, civil society activists and traditional healers in Kambia developed imaginative and community-led responses to future epidemics. As we – the research team who helped to conceive the film – took our seats, we were excited to watch the documentary alongside our collaborators.
The documentary follows the experiences of people like Morris Bompa, a traditional healer who joined the burial team during the Ebola response, and Isatu Bangura, a surveillance officer who used the experience gained during the Ebola crisis to respond to subsequent epidemics, from COVID-19 to measles. Through the testimonies of people like Morris and Isatu, we aimed to show the exceptional expertise that exists in Sierra Leonean communities and which can provide inspiration for epidemic response efforts across the world. Their expertise is not limited to knowing how to combat diseases, but also includes innovative approaches to integrating different forms of knowledge in a response. Collaboration, as the film shows, can be difficult, especially as very different ways of understanding the world come into conflict with one another, and epidemics become battlegrounds for disputes over the legitimacy of different kinds of expertise. Tarma shows how Kambians navigate these tensions and tackle the challenges of responding to disease outbreaks with limited resources.
Watch the trailer for Tarma: Communities on the Frontlines of Epidemic Response
How we combined research with filmmaking
The film was made as part of Dr Luisa Enria's UKRI Future Leaders Fellowship, which explores the challenges and opportunities of bringing together various forms of knowledge in epidemic response and the everyday negotiations over scientific evidence during health emergencies. Tarma was conceived after extensive ethnographic research and through an interdisciplinary collaboration between our team: an anthropologist (Luisa Enria), a field epidemiologist (Abass S. Kamara) and a civil society activist (Mohamed Lamin Kamara). We were supported and advised by the Kambia District Health Management Team (DHMT) and a community advisory group made up of representatives of different sectors, including traditional healers, chiefs, Ebola survivors, public health workers and community health workers. We met with them every two weeks over four months of filming and then again regularly during the editing process. Luisa received intensive training in filming and editing as well as support in planning and editing the film by Spectacle, a production company with extensive experience in participatory video and community-led documentary making.
Making Tarma as part of a broader ethnographic project required a significant shift in how we had been doing research (we wrote more about this here). There were challenges, for example, as the camera can make the research encounter immediately less intimate. In other respects, however, it greatly enriched our work, particularly as it made it possible to produce a much more collaborative research process. Our community advisory group was able to give us input throughout – suggesting where to film, debating what stories should be told and how, and helping us craft the final narrative through the editing process. The process of filming itself opened up new ways of having conversations, such as letting participants take the lead in how they wanted to be represented. Perhaps most importantly, using film meant that, unlike other academic outputs, we were able to bring this back to Kambia for everyone to see and engage with.
We wanted Tarma to serve as a conversation starter – a way to facilitate discussions about the role of community knowledge in epidemic response and the possibilities for interdisciplinary collaborations during health emergencies. The film does not offer definitive answers, but rather presents first-hand testimonies to raise questions and stimulate debate. After conducting qualitative research in Kambia District together for almost a decade, we also wanted to explore new ways of engaging our interlocutors to tell their own stories and own the product of the research. With funding from NCRM, we tested this in three preview screenings in Sierra Leone: two in Kambia (one open to the community and one for public health officials of the DHMT) and one in Freetown (at the Ministry of Health and Sanitation's Emergency Operations Centre).
Watch an excerpt from Tarma: a traditional healer Morris Bompa speaks about how he learned his trade
Audience responses to the documentary
In each preview screening, we facilitated lively discussions, as Tarma elicited memories of past outbreaks and ideas about what the film's lessons might mean for epidemic preparedness across the country going forward. On the first night in the church hall in Kambia, we welcomed the film's protagonists, our community advisory group, as well as representatives from different sectors of the district. As paramount chiefs from across Kambia, security officials, representative of NGOs and civil society filled the room, we were anxious to see how those who had lived first-hand the experiences described in the film would react. A former member of the Ebola response leadership opened the discussion that followed the screening, recounting stories from that time. He remembered one village, amongst the first to report infections in the district, where the disease spread so fast that they had to quarantine every household. "I was ready to die for my community," he said of his role at the time. Indeed, the risks that health workers take during epidemics was a key point of discussion for many attendants. "For some of us," said a social mobilisation expert, "God just decided we wouldn't die of Ebola."
The documentary sparked important but challenging debates about who gets to speak about emergencies and whose knowledge counts. In the documentary, we aimed to show the complexities of community-based emergency response, which often bring together very different expertise, sometimes resulting in conflict and disagreement. At the screening, for example, the role of traditional healers, whose fraught relationship with the formal health system is portrayed in Morris Bompa's testimony, was a point of contention. Whilst an NGO worker worried that healers may not be adequately trained to effectively screen for infectious diseases, a paramount chief argued that if we could establish research centres specialising in indigenous knowledge their expertise could be valorised.
The following week, the co-directors and the community advisory group rented a bus and travelled to Freetown for the third preview screening. Hosted by Professor Alhaji N'Jai, this brought together an interdisciplinary and diverse audience made up of members of different pillars of the Emergency Operations Centre (EOC) (such as social mobilisation, operations and surveillance), international and national agencies and local academics. Gathering our advisory group, including film protagonists such as Morris Bompa, and national ministry representatives allowed for a different kind of conversation. To break the ice and make the situation less formal, EOC staff asked us to switch to Krio (rather than English, the language of government, which is less accessible) and facilitated a fascinating discussion about the too common invisibility of community knowledge in the public health system. Amidst memories of recent outbreaks shared by those who were in charge of responding to them, the debate focused on the possibilities of decolonising public health and emergency response in Sierra Leone. As a member of the EOC noted, we must ask ourselves "what kind of knowledge systems are valued?" Recalling his own upbringing and his mother's knowledge of herbal medicine, he wondered whether Western education had worked to erase indigenous expertise and how Sierra Leone's public health system might work to regain it.
In all of the preview screenings, there were also discussions about the vulnerability of the health system. One researcher noted that "when we say communities are at the frontlines... it's possible only when all the layers are in place". He pointed, for example, to the "lofty" preparedness plans put in place following Ebola and contrasted them with recurrent resource challenges, such as the lack of ambulances that continue to make timely emergency response difficult. To complement these reflections on the state of the public health system, members of our advisory group also took the opportunity to share their personal testimonies. As the discussion was drawing to a close for example, Andrew Sesay, President of the Kambia District Ebola survivors' association, stood up to tell colleagues at the ministry that since Ebola ended, they felt they had been left to their own devices to deal with the mental and physical toll of having survived the disease.
Watch an excerpt from Tarma: the research team follows surveillance officer Abass Kamara as he investigates a new measles outbreak in the district
Humanising a complex discussion through film
The making of Tarma allowed us to do research differently, to involve our interlocutors directly in deciding how they wanted their stories to be told. But the methodological significance of the documentary went beyond the video-ethnography. At the preview screenings, the documentary became a tool to facilitate interdisciplinary discussions differently – to bring together different perspectives, experiences and ways of knowing the world, and stimulating deep reflections about the possibilities of integration and collaboration and the place of community knowledge in managing crises. Above all, using video methodologies allowed us to humanise a complex and often technical discussion of how we combat diseases, and to create a forum for remembering together as we look to the future. We are now planning to take Tarma on the road to an international audience, to share the invaluable experience and commitment of Kambian communities and to facilitate dialogue about how we might transform epidemic response in other places.
About the authors
Dr Luisa Enria is Assistant Professor in Anthropology at the London School of Hygiene & Tropical Medicine
Abass S. Kamara is a District Surveillance Officer and Field Epidemiology Trainee at the Kambia District Health Management Team
Mohamed Lamin Kamara is a civil society activist and co-founder of the Network for Rural Development – Sierra Leone