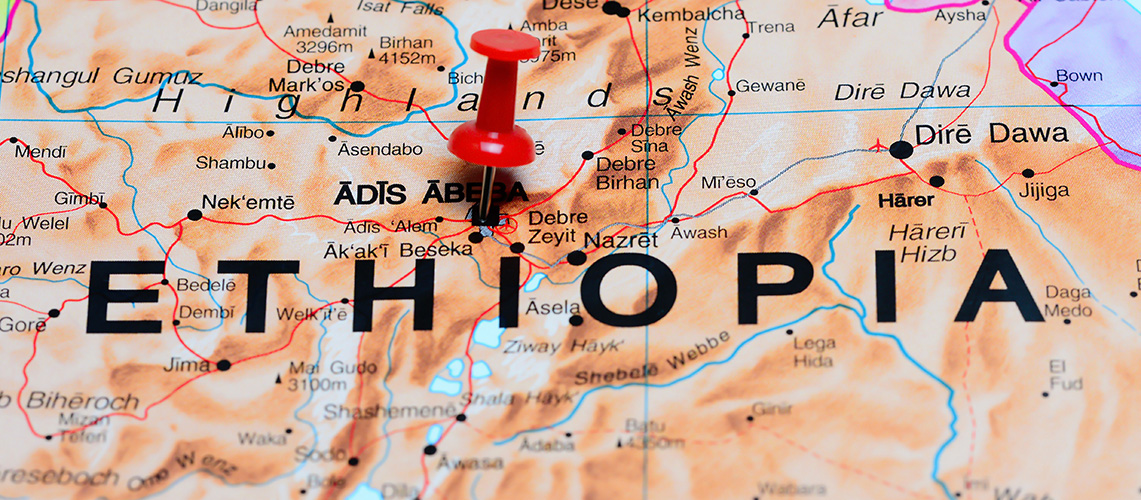 A map of Ethiopia
Uncertainty was a critical issue throughout the COVID-19 pandemic. When it comes to responding to complex problems posed by the pandemic, north-south research partnerships have an important role to play, pooling knowledge, expertise and resources, adapting methods and relationships with participants, and ensuring that research has a real impact on policy.
In our recently published paper, we delve into the vital role of north-south partnerships in conducting ethical and policy-relevant research in times of uncertainty. Drawing on our experience from the Early Learning Partnership (ELP) and Research for Improving Systems of Education (RISE) Ethiopia research projects, we reflect upon how our research partnerships evolved during the pandemic and how our relationships helped us to adapt our research to consider changing policy priorities in response to the crisis, implement careful research practices, and generate timely and quality evidence for government, schools and parents. Here, we share our key takeaways to help achieve equitable north-south partnerships, and achieve greater policy impact.  
Building blocks for collaborative research partnerships prior to the pandemic
The ELP and RISE Ethiopia research projects examined large-scale education reform programmes in Ethiopia. Both involved researchers from the global south and north, with strong relationships between the government and donors in the country. The power of our research partnerships lies in the different skills, knowledge and experiences that the different partners bring to the table. In our case, the Ethiopian team have a wealth of knowledge of the historical, political and socio-cultural context of the country, which was essential in designing and implementing the research. Meanwhile, the international team had a broad understanding of the global education landscape, good networks with donors and research communities, and strategies to disseminate research widely. Joint decision-making and collaboration were key to every stage of the research process, and regular in-person meetings in Ethiopia and the UK helped to establish mutual trust and understanding while accounting for the different needs of team members.
Adapting our research to the COVID-19 uncertainty
When the COVID-19 pandemic reached Ethiopia, it forced schools to close. However, instead of this bringing our two projects to a standstill, we pivoted our focus to understanding the impact of the pandemic on education systems, its effects on schools and communities, and how schools could safely reopen. In the early days of the COVID-19 pandemic, researchers faced unprecedented challenges with few guidelines on how they should respond. However, our partnerships enabled us to navigate these challenges and – drawing on our shared skills and knowledge – we quickly shifted from in-person data collection to conducting phone surveys. This allowed us to gather critical information while also keeping our researchers and participants safe. With input from hundreds of caregivers, teachers and school principals, our goal was to inform the government's COVID-19 response strategy and help get children back to school safely.
Achieving greater policy impact through equitable partnerships
The long-standing strong relationships of the Ethiopian team with the government were key to our success in responding to the COVID-19 pandemic. From the outset of our research, we prioritised engagement of key stakeholders through a range of different strategies, including formal seminars, workshops and meetings, to more informal chats over coffee to update on our ongoing work. Our relationships with the government were mutually beneficial, providing important and timely information to the government while also allowing us to stay up to date and improve the quality and uptake of the research in spite of the high turnover of government officials. This was even more important in the context of the COVID-19 pandemic where we were required to rapidly shift the focus to changing government priorities and quickly disseminate our findings to help inform strategies to ensure the safe reopening of schools.
Our experience has highlighted that equitable collaboration is essential for achieving successful research partnerships. Through the lens of Tronto's ethics of care, here are some key takeaways:
Trust and solidarity: Invest time in building equitable north-south research partnerships and foster mutual trust, share decision-making and embrace flexibility.
Attentiveness and responsiveness: Lay the groundwork for strong relationships with policymakers from the outset to engage in action to bring about policy impact.
Responsibilities and competence: Be flexible in research design, implement careful research practices and strategise the efficient use of research resources.