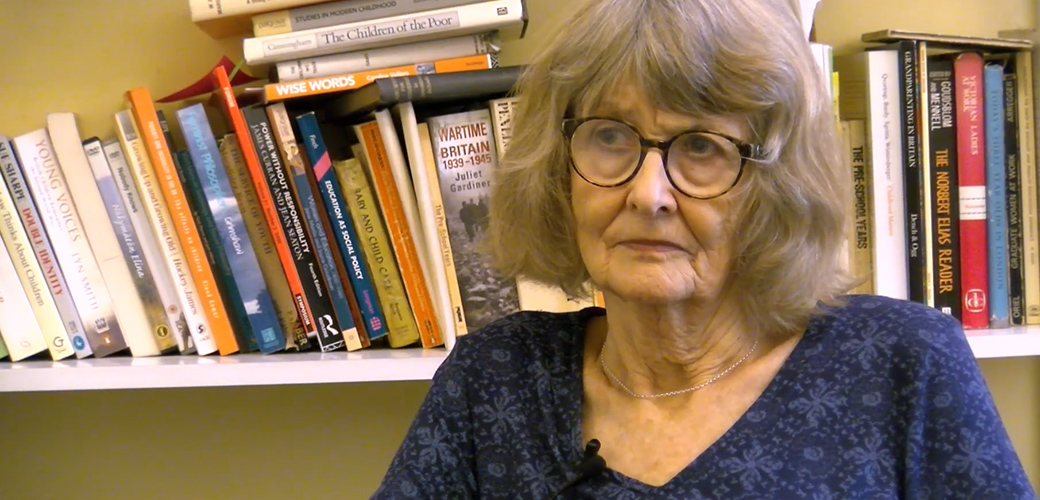 Professor Ann Oakley
On a warm, sunny day in June of last year, we had the great pleasure of interviewing Professor Ann Oakley, a renowned figure of modern feminism. We were in the process of organising a major 10-day festival, called Timescapes 10, which in September 2022, marked and celebrated 10 years since the conclusion of the Timescapes programme of research. Central themes of the festival included the lifetimes and legacies of research data, archives, collections and the scholars that produced these. Given her sociological importance and the long term relevance and impact of her work, Ann was the perfect interviewee for answering questions about intellectual legacies and futures. Furthermore, as great admirers of Ann's work, we saw this as an unmissable opportunity to meet her and learn more from her in person.
On her UCL staff website Ann says about herself: "I have worked in social science research all my life. My main interests are gender, health, methodology and evidence-informed public policy."
This brief description disguises a career that has transformed sociological thinking on gender, methodology and public policy for social scientists for decades. From the outset, her work entailed a shift in sociological focus on grand social architectures to encouraging instead empirically driven and engaged research that pays attention to the details of people's lives and their own explanations of how things have come to be. Cumulatively, her tremendous research history tracks alongside and captures Britain's long social history – especially that of women.
Enduring research themes
In the interview, adopting a semi-biographical approach, we asked Ann about her career, the impacts that her work has had on a broad set of social sciences debates and questions, and what she sees as the opportunities and challenges for current and future social scientists. Ann certainly continues to have relevance, perhaps in part linked to her close empirical attention to the minutiae of people's everyday lives. It was especially touching to hear that school students continue to contact her, inspired by themes in her work that still have contemporary resonance. However, we were especially interested in why some themes in her research have been enduring and continue to attract new scholars, while others have been somewhat lost along the way.
As she spoke, what really stood out for us was her ability to recast the mundane and everydayness of women's lives as sociologically significant. For example, in our conversation after the interview, she gave a fascinating account of her new work concerning the importance of women's domestic and hygiene practices as a form of female-led science. She explained that the historical relevance of how women developed and adhered to hygienic principles of homekeeping means that women were pioneering in promoting and producing new forms of family health, improving the health of the nation.
Reflections on methodology
Ann reflects on how some of the methodological developments in her research, such as survey methodology, were actively dismissed or considered controversial. What's interesting about this to us is that surveys continue to be far more mainstream than, perhaps, the qualitative approaches that Ann had been recognised for (for example, conversational interviews with women). We wonder if this controversy related far more to the fact her methodological diversity was unexpected, and thus challenging for scholars seeking methodological orthodoxy. From our own view, such orthodoxy is by far more perilous than experimentation and innovation, as it has every potential to entrench epistemological blind spots, and reify analytical or conceptual categories and positions. We would point instead to Ann's larger catalogue of research, such as on maternal and infant feeding, and how through its methodological rigour and consequent influence on social policy her research has shaped national health policy in ways which respond to and acknowledge women's needs and experiences.
One of our enduring memories is the part of the interview where Ann talks about what public sociology might be and how one might be a public sociologist: we invite you to listen to her response. From our own perspective, Ann's life's work continues to build a public space for sociology, despite the increasing challenges empirically driven sociology faces in speaking to public debate, being heard and having influence in such.
The saying "never meet your heroes" certainly doesn't apply to us. Instead, we are glad to have had the opportunity of visiting Ann in her own office, and hearing first hand about an incredible sociological life and legacy from which generations of sociologists will continue to benefit now and into the future.