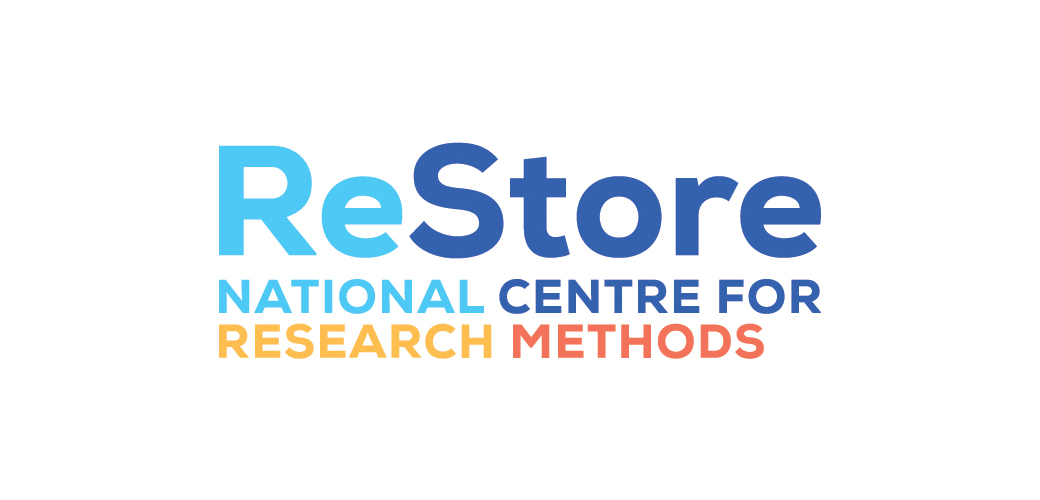 The ReStore logo
NCRM is pleased to announce a major refresh of the ReStore online resources collection at www.restore.ac.uk.
ReStore is a repository of research methods websites originally funded by the Economic and Social Research Council (ESRC), mostly prior to 2010, through initiatives such as the Research Methods Programme (RMP), Researcher Development Initiative (RDI), Quantitative Methods Initiative (QMI) and the National Centre for Research Methods (NCRM). At that time, several major initiatives were coming to an end and there was no plan for how their various online resources would continue to be made available to the research community.
ReStore was the brainchild of Professor Angela Dale (RMP, University of Manchester), Professor Chris Skinner (the first Director of NCRM) and Professor David Martin (NCRM co-Director). The project included a series of workshops and training materials to help researchers build more sustainable online content – aspects of which were incorporated into ESRC's own guidance for award holders – and the licensing and technical design of a repository to support selected resources after their own funding had ended. ReStore formally became a part of NCRM in 2014.
By 2022, some of the resources continued to be extensively used, while others had effectively been overtaken by newer content elsewhere and the ReStore website design needed to be brought into line with contemporary NCRM systems. With guidance from a specially convened review group, the decision was taken to fully migrate eight of the resources (which have come to account for over 98 per cent of total usage) to a new ReStore website and to archive the other 12.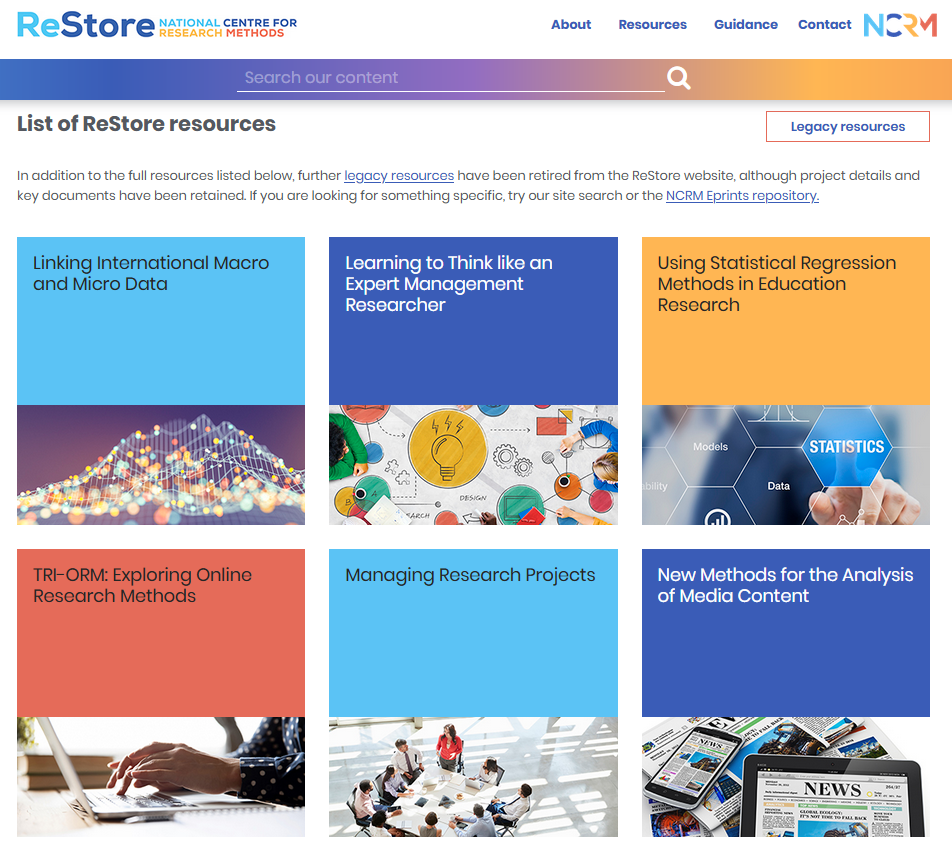 NCRM has now completed this work and eight resources have been migrated to the new website where the migrated resources are all linked directly from the project home page. For the 12 archived resources, landing pages have been retained describing their original projects and providing links to selected key documents (typically project reports, presentations and working papers) which are now available in the NCRM Eprints document repository.
Due to their age, the ReStore resources can no longer be adapted to fully comply with contemporary web accessibility standards, but are maintained as a service to the research community and provide valuable research methods reference material. While NCRM is not able to directly amend the ReStore content, we continue to add modern online learning resources and courses to our own collection, that now includes more than 50 NCRM online resources and over 3,000 items in our Eprints repository. To browse what is available, see: www.ncrm.ac.uk/resources.
We hope you will join us in thanking the many original ReStore content authors and celebrating the fact that the project has supported more than 3.75 million page views over the last decade, all since the funding of their original projects had ended!