Ali Hanbury
Senior Engagement Manager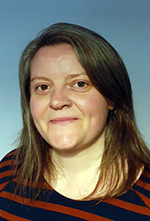 Email: ali.hanbury@manchester.ac.uk

Centre Activities
Contributing to the overall functioning of the Centre with working relationships with all investigators, research fellows, and support staff
Leading on the engagement function of the National Centre for Research Methods
Delivering on an ambitious agenda to build and strengthen a network of collaborations across disciplines and sectors of the UK economy and beyond
Developing the engagement strategy and operational plan, and the delivery of engagement activities through the lifetime of the Centre
A facilitator for communication between the Centre and external stakeholders
Publications
Eastham, R., Hanbury, A (2020) Encountering the pleasure/risk complex and desexualisation in practice: a commentary on sexualities education from sexual pleasure workshops with self-defining women. Sex Education.
Gabb, J., McDermott, E., Eastham, R., & Hanbury, A. (2019). Paradoxical family practices: LGBTQ+ young people, mental health and wellbeing. Journal of Sociology. https://doi.org/10.1177/1440783319888286
McDermott, E., Gabb, J., Eastham, R., & Hanbury, A. (2019). Family trouble: Heteronormativity, emotion work and queer youth mental health. Health. https://doi.org/10.1177/1363459319860572
Hanbury, A. 'Young Women and the Pharmaceutical Burden of HPV Vaccinations' in Johnson, E. (ed) (2017) Gendering Drugs: Feminist Studies of Pharmaceuticals, Palgrave
Book Review: Powered by girl: A field guide for supporting youth activists, L.M. Brown. Beacon Press, Massachusetts (2016) (208 pp.), ISBN: 978-080709460-0
Hanbury, A. and Eastham, R. Keep calm and contracept! Addressing young women's pleasure in sexual health and contraception consultations, 2014, Sex Education
Hanbury, A. and Ronan, A. Risk and resilience: exploring the necessity and (im)possibility of being a critical and feminist youth worker in neo-liberal times, 2013, Youth and Policy
Hanbury, A. 'Sex and Relationships Education vs Abstinence Programmes' in Batsleer, J. (2012) Youth Working with Girls and Women in Community Settings: A Feminist Perspective Book
Book Review: Jackson, C., Paetcher, C. and Renold, E. (eds) (2010) Girls in Education 3-16 Continuing Concerns, New Agendas
Hanbury, A, Batsleer, J, and Lee, A. 'Youth work with girls: a feminist perspective' in Batsleer, J and Davies, P. (eds) (2009) What is Youth Work?